Fresh from The Lakes, handmade toiletries that are pure, affordable & sustainable
My verdict… "Gorgeous range of everyday and for luxury gifts, the Grapefruit and Lemongrass salt scrub smells good enough to eat, check out the lovely Beeswax Skin Repair Bars – raising money for a local boy, treat your skin and help a good cause"
In 2001 Iain and Sandra Blackburn gave up IT and commuting to follow their dream of running a business in the Lake District. The only downside was that Sandra could no longer afford the natural products she had used for her sensitive skin so she decided to make her own.  Creating potions at the request of family and friends resulted in a large range of gentle products made using skin and earth friendly ingredients. A plea from Hotelier friends to supply biodegradable guest toiletries and help reduce the amount of waste produced by small bottles and sachets inspired Sandra and Iain to set up 'Pure Lakes Skincare' offering quality, eco-friendly toiletries in bulk for refillable containers.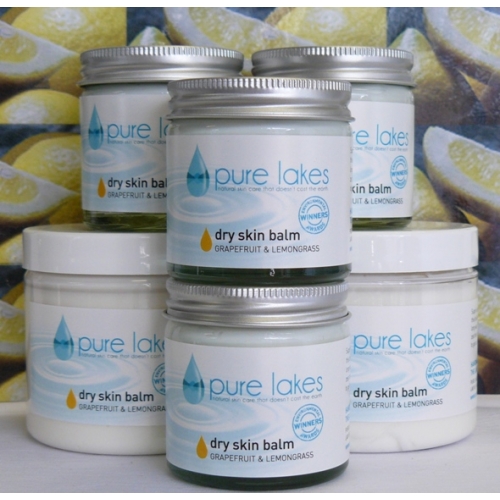 They save money by keeping packaging simple and buying larger quantities of raw materials to get better prices so Pure Lakes can offer high quality, handmade natural toiletries at affordable prices. The couple are passionate about running the business responsibly – 95% of waste is reused or recycled and they have sourced 100% recycled plastic bottles. This has resulted in several environmental awards including an Environmental Excellence award and 'Green Hero' award from the Environment Agency.
They buy beeswax from local Beekeepers and raise funds for local and national conservation organisations by donating a percentage from the sale of products. Still making all the products by hand in their Cumbrian
workshop, they now supply guest toiletries to a wide range of small/medium hotels throughout the UK and their website contains rave reviews from Customers all over the world. Here's a low-down of some of their great products:
Skin Repair Bar – intense moisturiser based on unrefined, honey scented Beeswax combined with rich butters and oils of Avocado and Calendula. Great for nourishing and protecting cracked, dry skin and available with several blends of fragrant essential oils.
Dry Skin Balm – packed with all the good stuff I could get in – Aloe Vera, Beeswax, Avocado, Jojoba, Calendula, Coconut and Shea butters. It looks like thick clotted cream and is just as rich.
Facial Hydration Moisturising Cream – deliciously soft cream I originally made for myself using Shea Butter and organic Rosehip Seed Oil for natural Vitamin A and Omega 3 plus oils of Neroli, Bitter Orange and Frankincense because they smell sensational and are wonderful for mature skin.
Hand and Body Lotion – Sandra's special concoction of Sweet Almond, Sunflower and Avocado oils whipped into Aloe Vera gel is silky soft and sinks into the skin like a dream. Extensively tested by ladies of all ages!
Muscle & Joint Ease – This was originally formulated for a friend with an old ankle injury that became stiff and painful in the winter. Ginger and Black Pepper for warmth combined with Lavender and Rosemary to help ease muscles bound in a soft white cream.
For more information, check them out at www.purelakes.co.uk